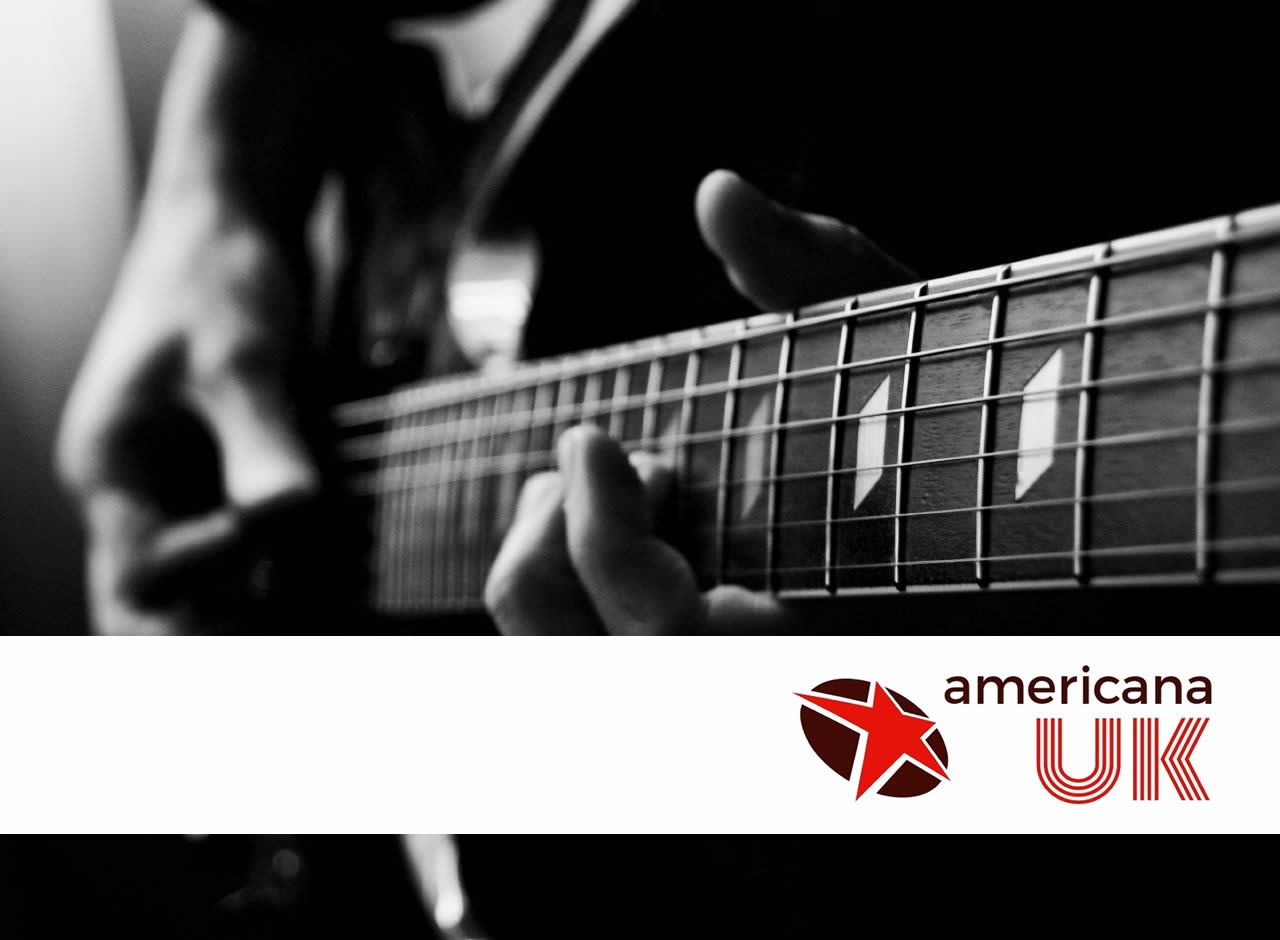 Many thanks to AmericanaUK & Rhys Kelly for reviewing my new album, Wallowin' in the Night, saying, "It brings to mind the raw and direct music of Lucinda Williams or Gina Villalobos. Shawn Williams has a similar husky drawl, with a lot of personality and tone. Her band provide a muscular, tight and appropriate setting for her songs, bringing to mind Counting Crows and Sheryl Crow…" 7/10! Check out the full review!…https://americana-uk.com/shawn-williams-wallowin-in-the-night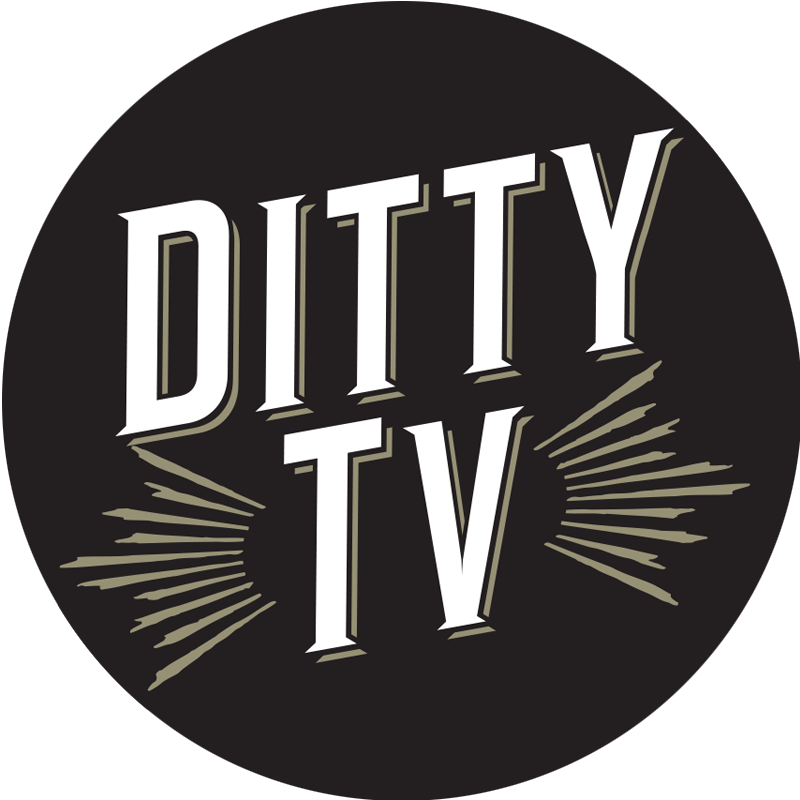 Holy crap!! DittyTV included my new song "Ringer" on their new The Ditty Dozen - 12 Artists You Need to Know playlist!! Thank youuu!!! Check it out: https://open.spotify.com/playlist/7iQ1adypnnRyfjC2jpH8q9

Dublin, Ireland's LonesomeHighway.com on my new album Wallowin' in the Night:
"Overall the album offers a perfect combination (story songwise) of broken hearts, hell-bound hedonism, hung over mornings and moments of something approaching happiness."

Thank you so much for the killer review and support, LonesomeHighway.com and Stephen Rapid!!!!
Check out the full review: www.lonesomehighway.com/music-reviews/2022/6/2/latest-album-reviews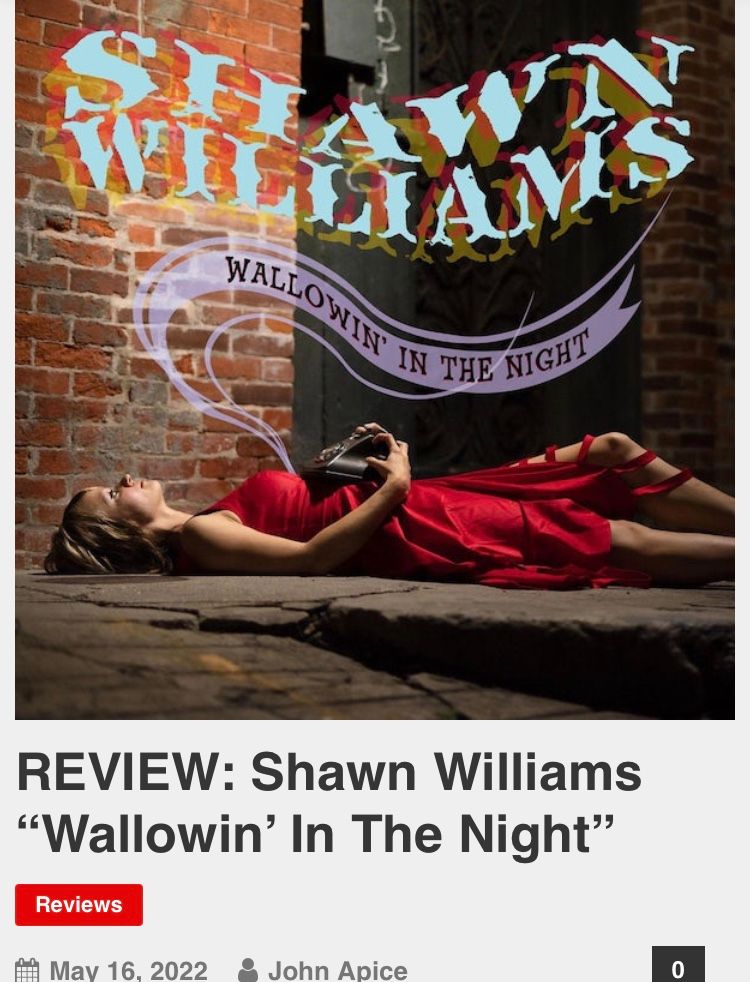 Wow! Thank you soooo much for this review, Americana Highways!!!! And your words choices, John Apice, are so dreamy!! Thank you!! Read their review of my 4th album, Wallowin' in the Night, here: https://americanahighways.org/2022/05/16/review-shawn-williams-wallowin-in-the-night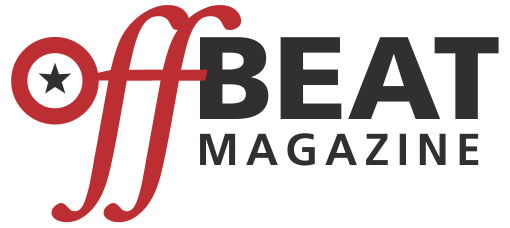 Thank you for review of my new album, Wallowin' in the Night, OffBeat Magazine, and for all the support of the years!!! Read the review: www.offbeat.com/music/shawn-williams-wallowin-in-the-night-independent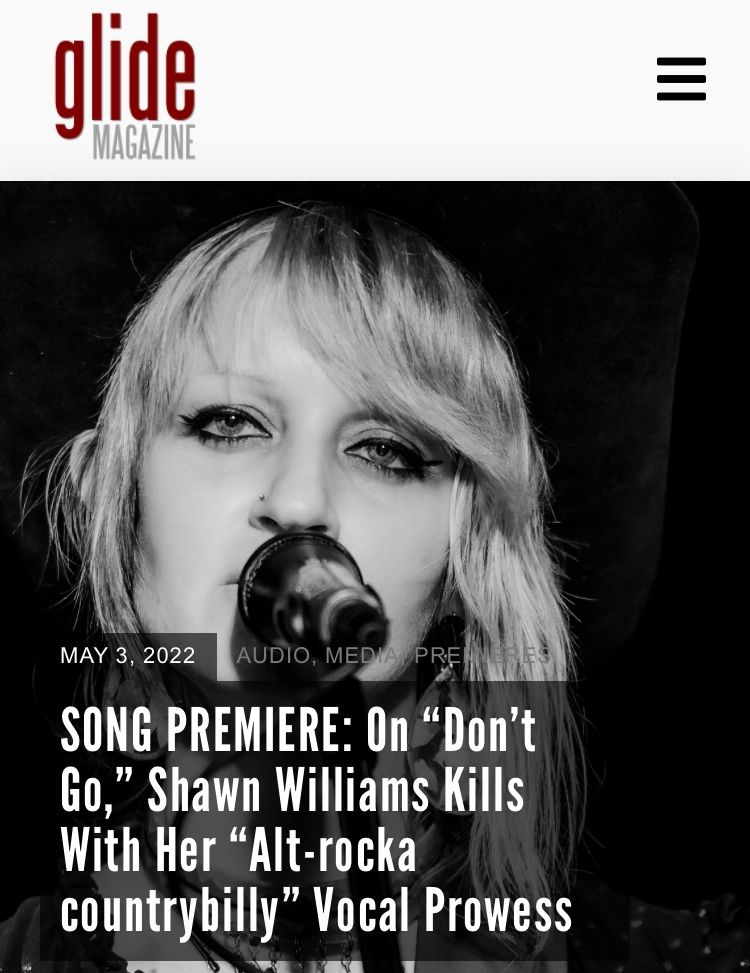 Many thanks to Glide Magazine for debuting my new single - "Don't Go" - calling it "aching twangy southern soul that is more often mimicked than authenticated.  Like Lucinda Willians, add this younger Williams in the real deal, undisputed soulful artist category: destined for a shot as a career artist."  Read the full article here: https://glidemagazine.com/274233/song-premiere-on-dont-go-shawn-williams-kills-with-her-alt-rocka-countrybilly-vocal-prowess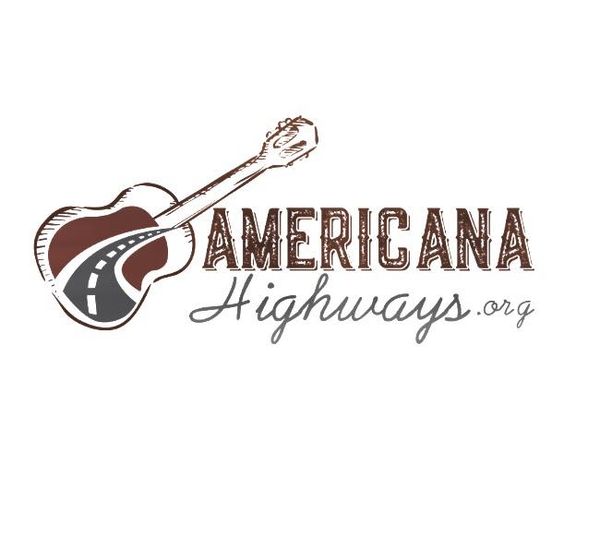 Click Here To Listen To the Premiere of "Someone Else" Thanks so much to Americana Highways for premiering my new single "Someone Else" before it comes out on March 24th, 2022!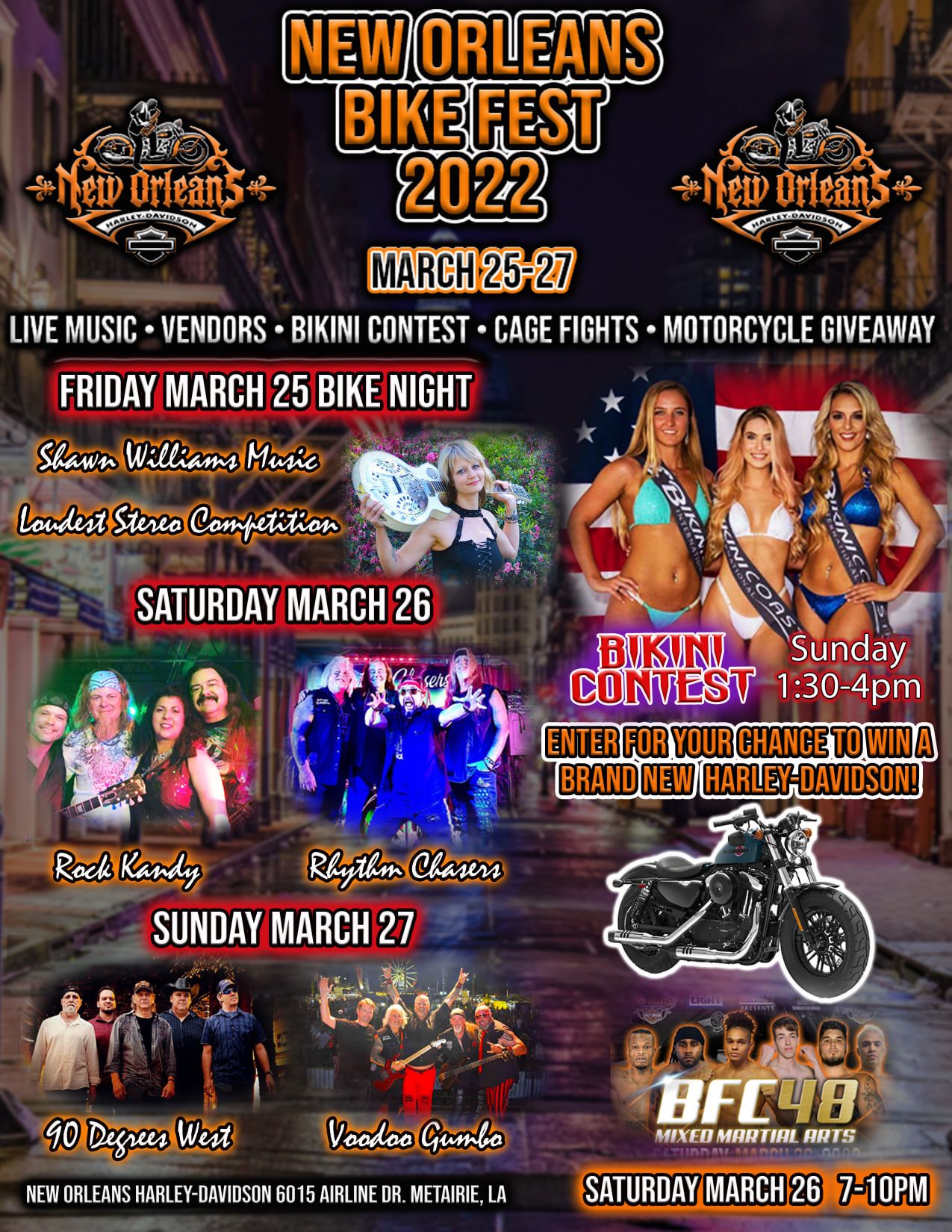 The band and I look forward to rocking at New Orleans Bike Fest 2022, goin' down at New Orleans Harley-Davidson! We'll be playing March 25th, 6-9 p.m.!
Brand new single "So Tired", available everywhere you get your music fix online! Find it on my 4th album,
Wallowin' in the Night, out May 20, 2022!
"If You're Gonna Leave", from Shawn Williams 4th album Wallowin' in the Night, available everywhere May 20, 2022.

I'm super excited to have been invited to play thee biggest motorcycle rally and one of the largest events held every year, as The Ledford House Presents: Songwriters at Sturgis!

We'll be playing every day on the Bear Butte Creek Campground stage! I'll be bringing the fellas, Dustin and Johnny, along with me to rock it! We'll be doing a "Road To Sturgis" Tour on the way up and back! Check out TOUR DATES for locayShawns.
VOTE HERE: www.offbeat.com/news/vote-for-the-2020-best-of-the-beat-awards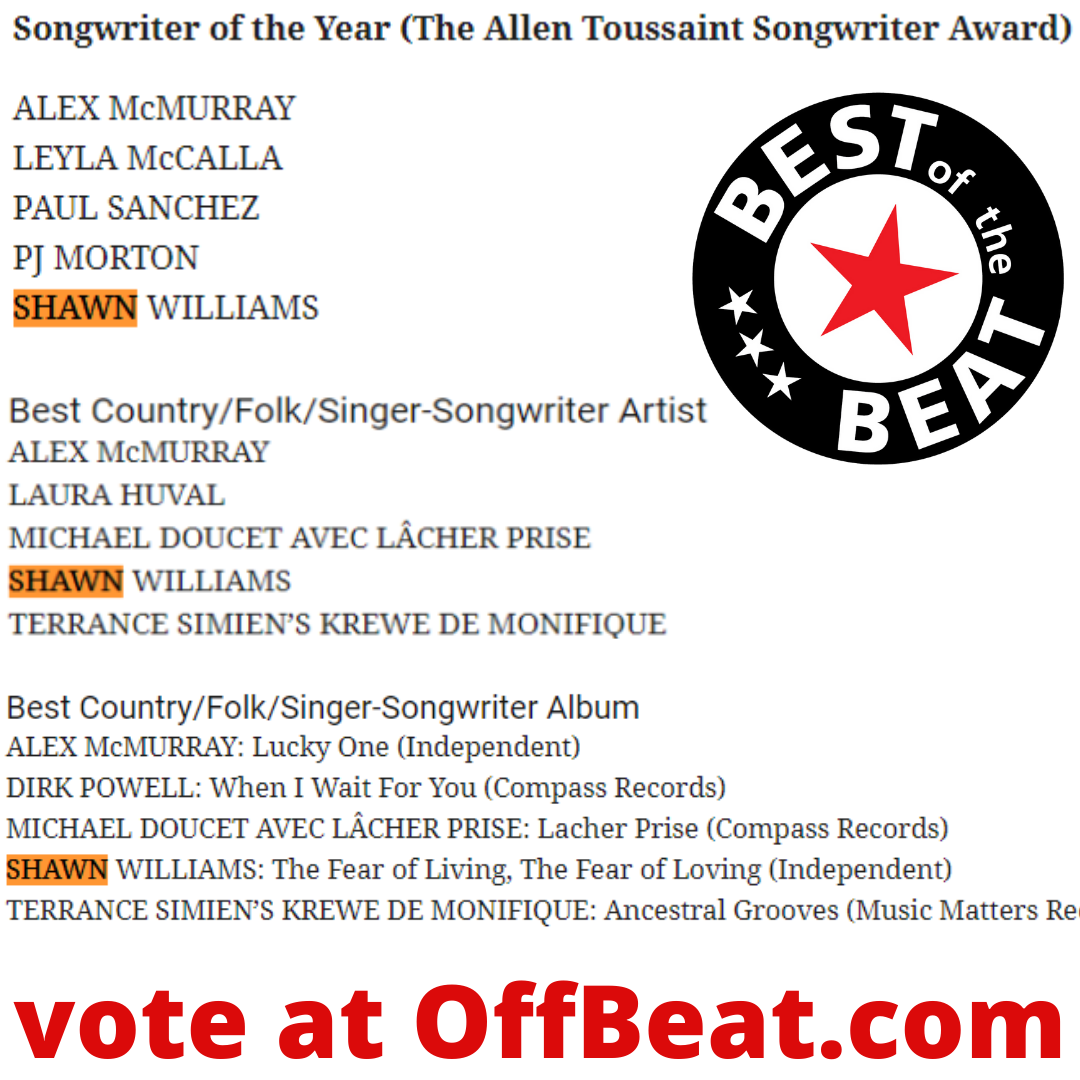 I am so honoured and delighted to be nominated for three OffBeat Magazine 'Best of the Beat' Music Awards!!!!..."Songwriter of the Year"; "Best Country/Folk/Singer-Songwriter Artist"; "Best Country/Folk/Singer-Songwriter Album"!!!
Thanks so much to the OffBeat krewe and the people industry for the support and nominayShawns!! And thank you for your support, buying my new album, and voting!!
Voting ends 6 p.m. on 15th of March!

 
Buy an autographed CD of my brand new album The Fear of Living. The Fear of Loving., plus other merch! CLICK HERE

Read OffBeat Magazine's review of the album HERE!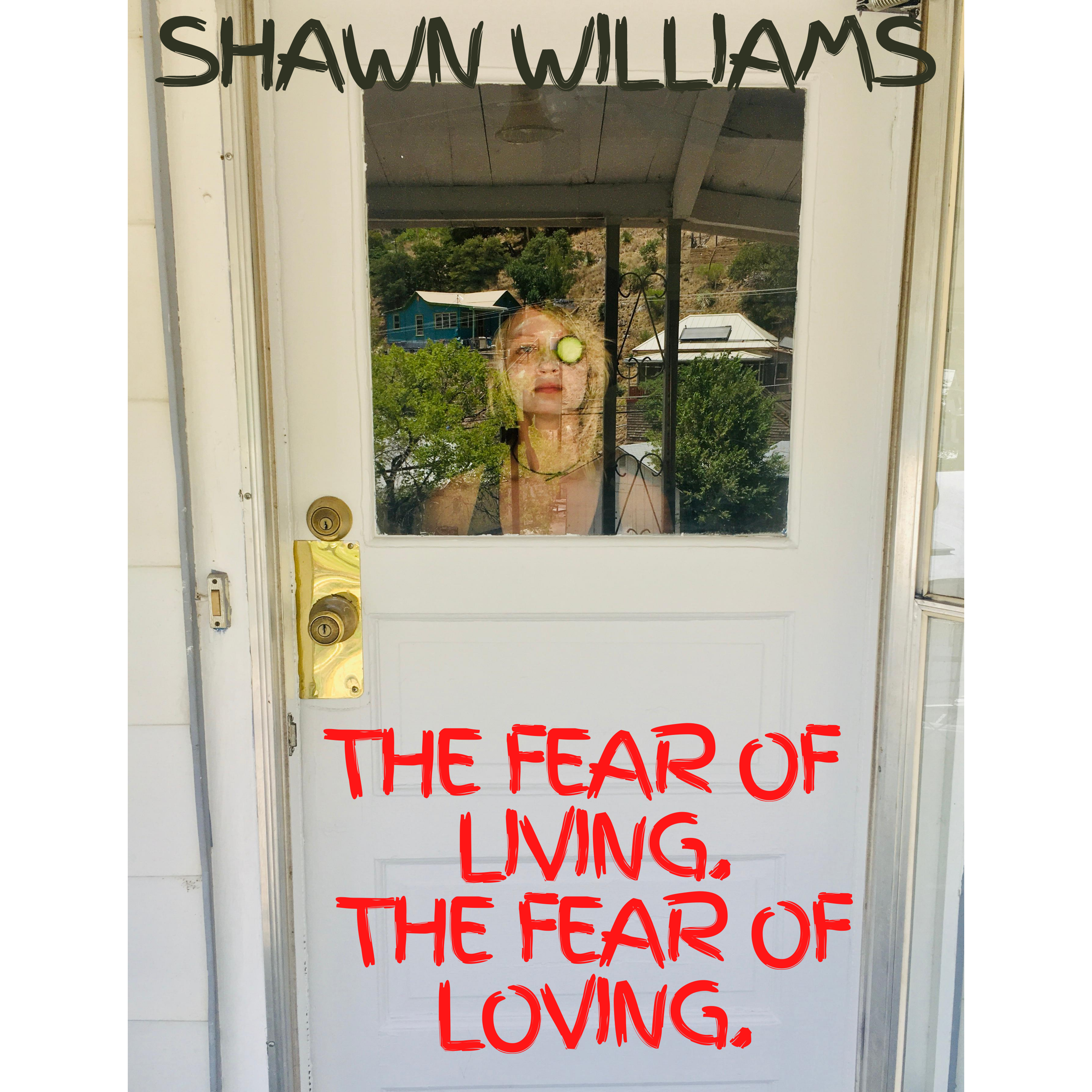 SPOTIFY: https://open.spotify.com/artist/04fbKJ4a6j2YglTWP5t1LZ  
My new single "Change", from my upcoming third album The Fear of Living.  The Fear of Loving., will be coming out on July 1st and will be available everywhere! This album I wrote within a few weeks during the "shutdown".  I also played all instruments on it, mixed and recorded it on my phone, and had mastered by thee great Bruce Barielle! Album will be out the 7th of August, 2020!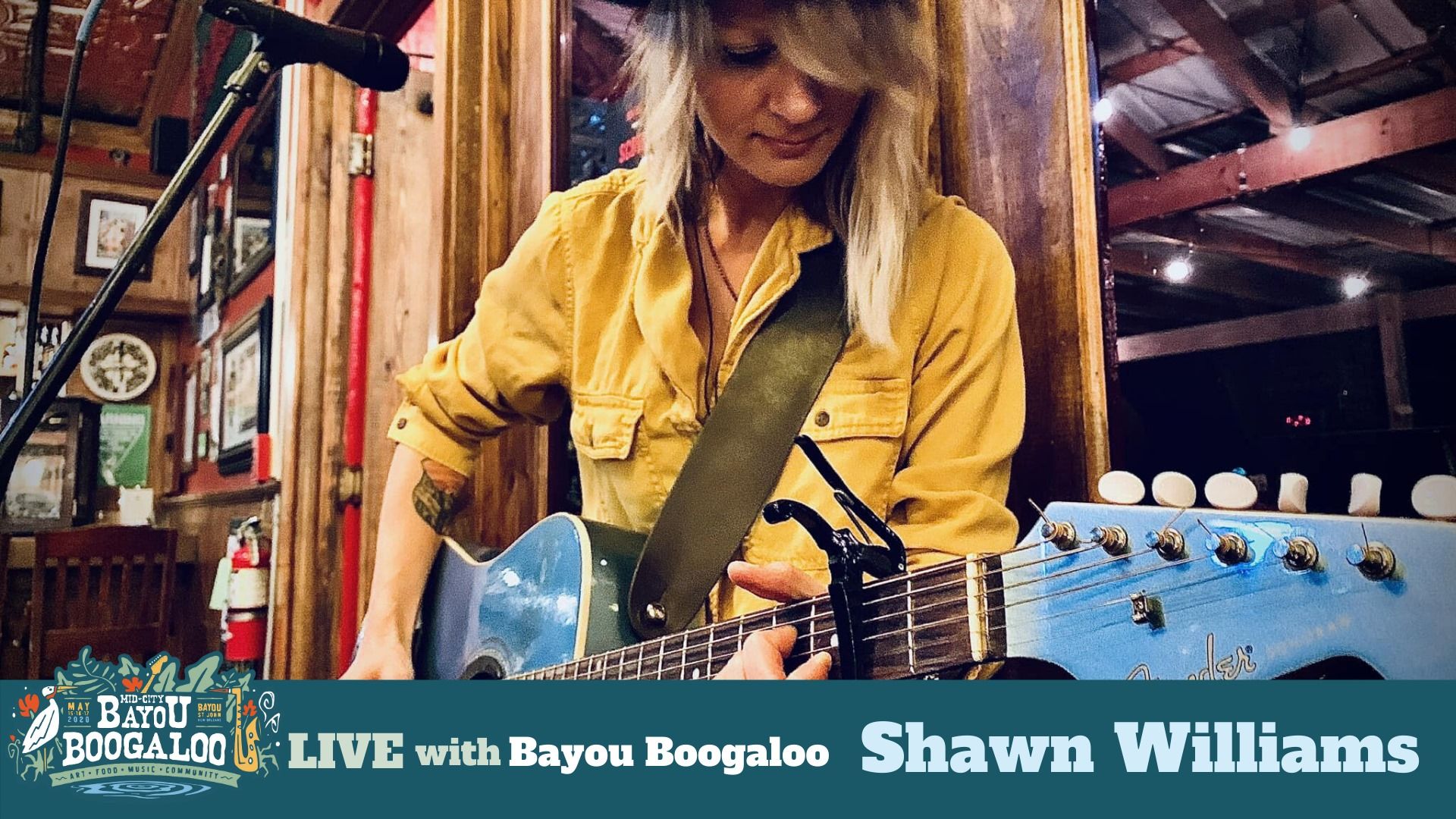 Friday, April 10th, 6-6:30 p.m. CST, I will be livestreaming on Bayou Boogaloo Music Festival's Facebook page, Facebook.com/BayouBoogaloo! Thanks so much to the fest for asking me to do this!! Hopefully we'll still get to relax on the bayou at the fest next month.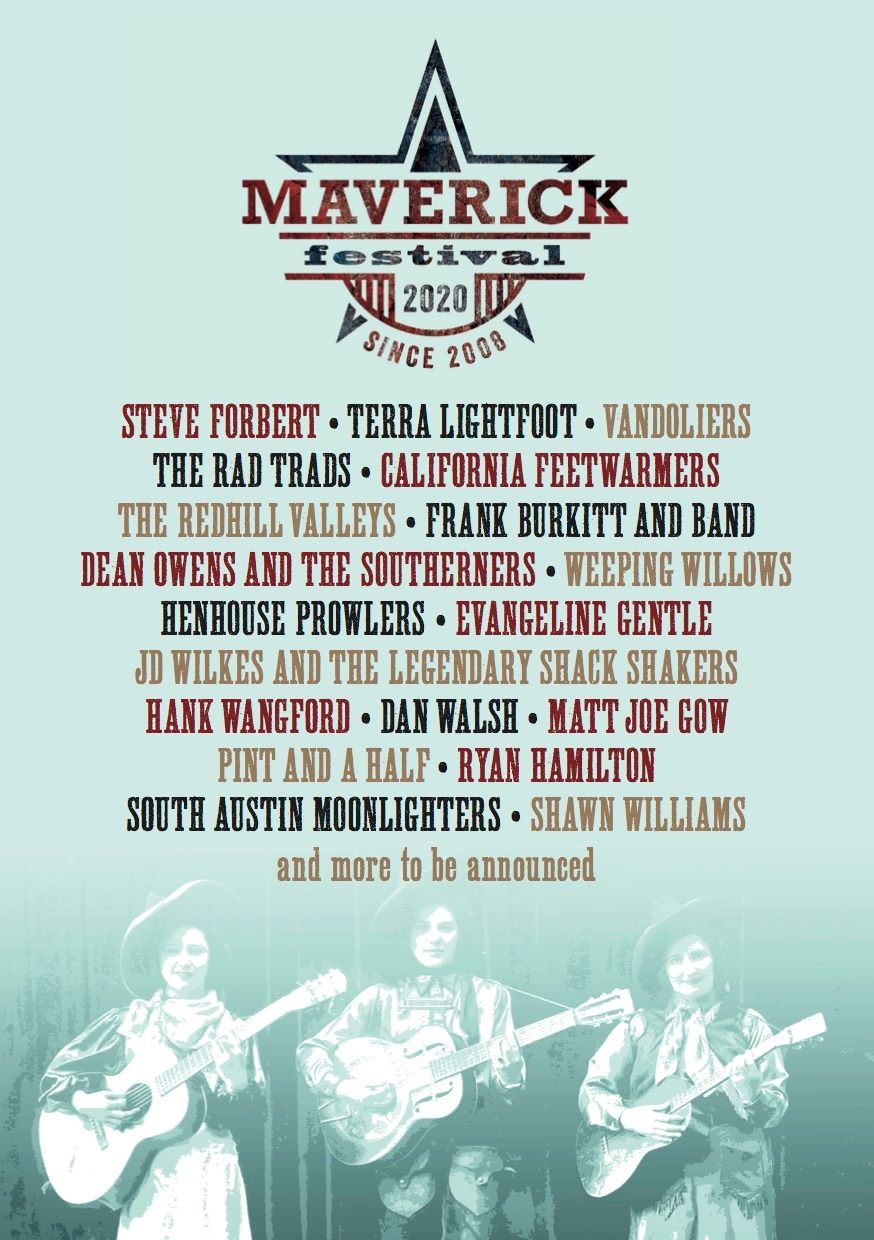 Hot damn! I'm going to play in the UK at the #1 Americana Fest, Maverick Festival in Suffolk! Festival is goin' down the 3rd-5th of July!!!!! I'll be playing on the 3rd & 4th! Get your tickets at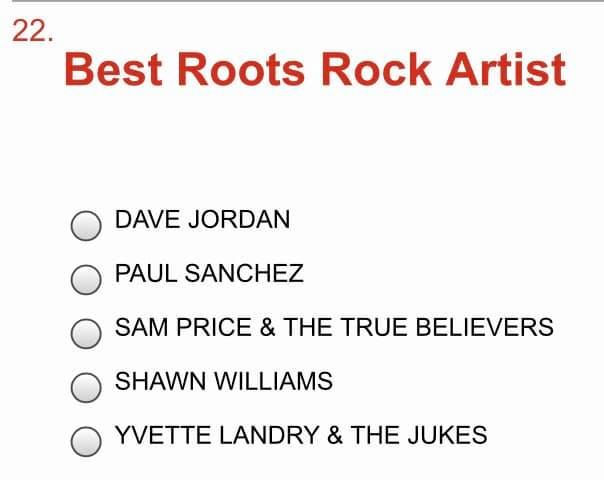 So damn honored to be nominated again for OffBeat Magazine's Best of the Beat awards, for 'Best Roots Rock Artist'!!!😃😃😃😃😃

You can vote 'til Jan. 15th, here (scroll down to "click here to vote"): www.offbeat.com/news/vote-now-for-offbeats-2019-best-of-the-beat-awards

Get yo' tickets to party at the awards on the 30th of January at the New Orleans Jazz Market! Live music, awards, food, booze!

Thanks so much to OffBeat, Jan Ramsey and folks on da scene, and you for the nominayShawn and support🙌🏾🙌🏾🙌🏾!!!! 
 

Sooo excited to be playing at Folk At Heart Festival in Sweden, plus, doing some other shows while I'm there 26th of December, 2019 - 8th of January, 2020!!!! Check out my tour dates HERE.

 
A cheesy video eye made with videos of mine for my new single "If You're Gonna Leave", which is now available everywhere digitally! CDbaby, Spotify, iTunes, Apple Music, Amazon, Pandora, Deezer, and more!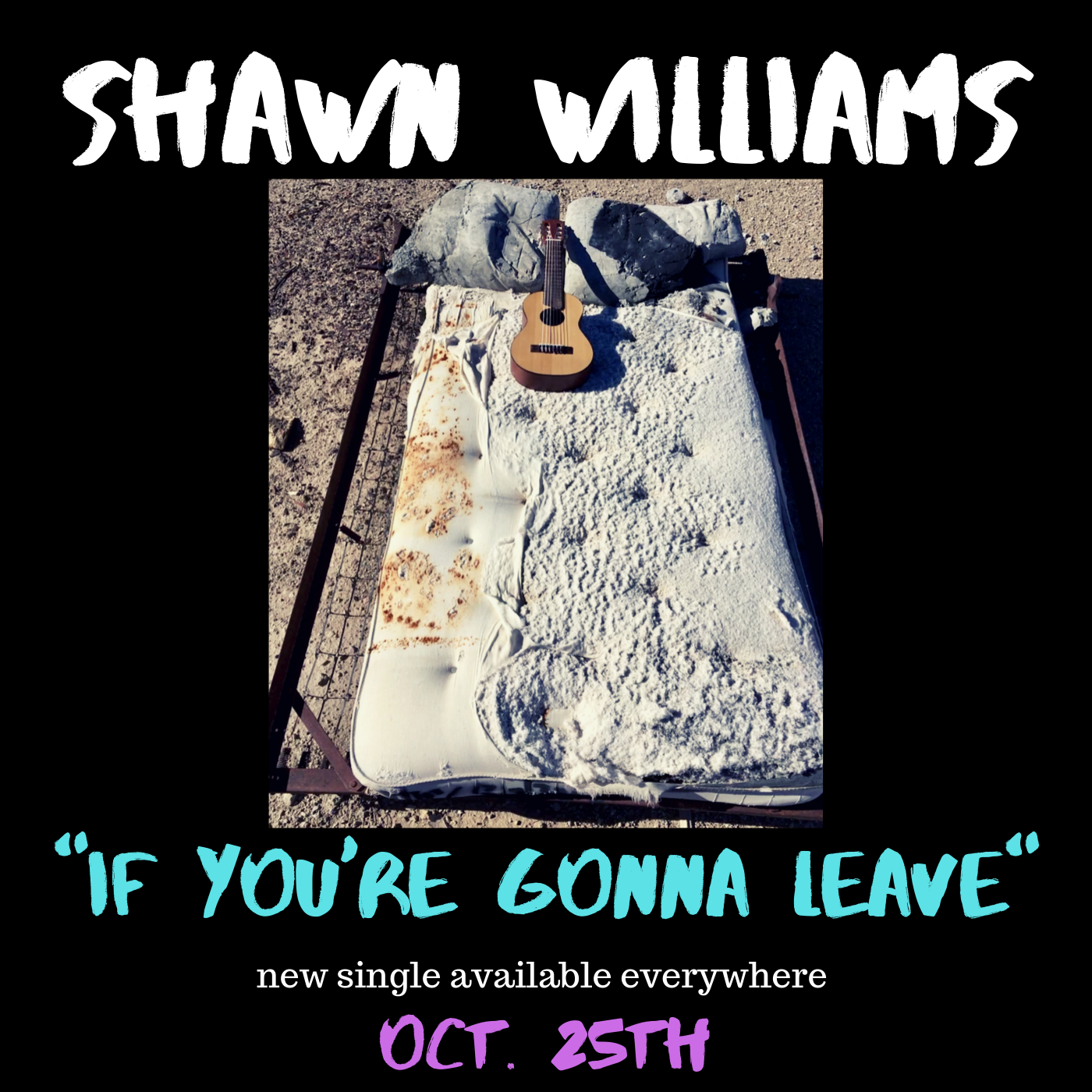 My new single "If You're Gonna Leave" will be available everywhere digitally, 10/25/19! Make a donayShawn of $50 or more to the GoFundMe.com/ShawnWilliamsMusic for my 3rd album, and you'll get the exclusive acoustic verShawn of the song + signed CD (when it's record) + sticker.  The song is written and produced by me.  Recorded at Blue Velvet Studio New Orleans with engineer Tom Stern.  Mastered by Bruce Barielle.  Lead guitar - John Fohl; Bass - Rene Coman; Drums - Doug Garrison; Harmonies - Kelcy Mae

Can't wait for you to hear it!! I'm so lucky to be able to work with these talented artists and team!! Thanks so much to my friends that contributed to the GoFundMe in order to be able to record this song!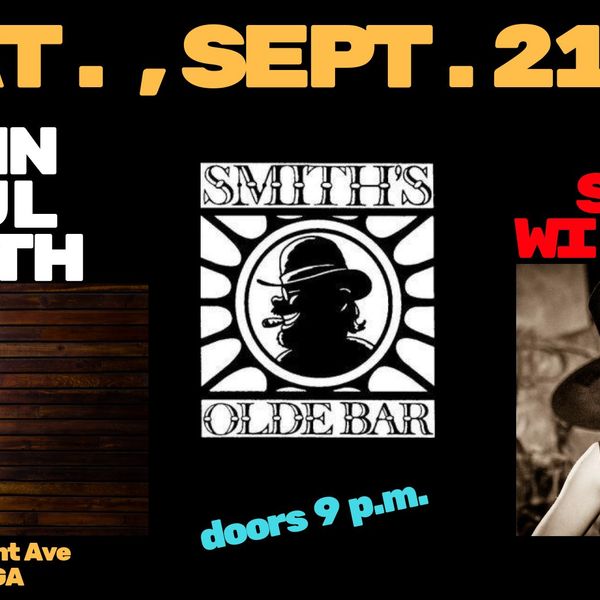 So excited to get to open for the amazingly talented John Paul Keith, Sat. Sept. 21st at Smith's Olde Bar in Atlanta! I'll have band with me! Get your tickets before it sells out!... eventbrite.com/e/john-paul-keith-shawn-williams-tickets-63670445015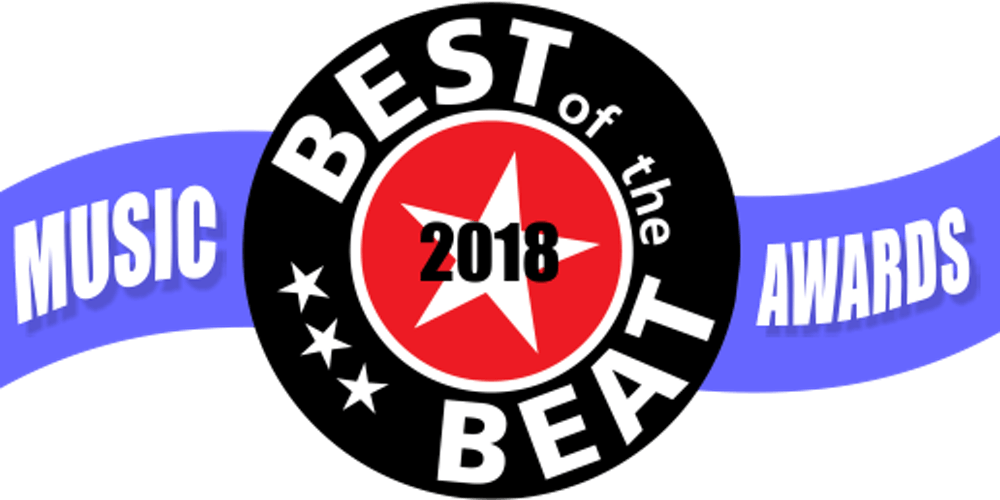 So f'n ecstatic to have been nominated for two Offbeat New Orleans 'Best of the Beat Music Awards' 2018!! You can VOTE HERE, if you like what you hear :).  I've been nominated for 'Best Roots Rock Artist' and 'Best Roots Rock Album' for Motel Livin'!! They've also named it one of the best albums of 2018! Major props to everyone involved in the album, the Kickstarter pledgers, and all the supporters! Huge thanks to Offbeat for the continuous support for both of my albums!! You can also attend the awards show! Info in the voting link.  Voting ends Jan. 15th.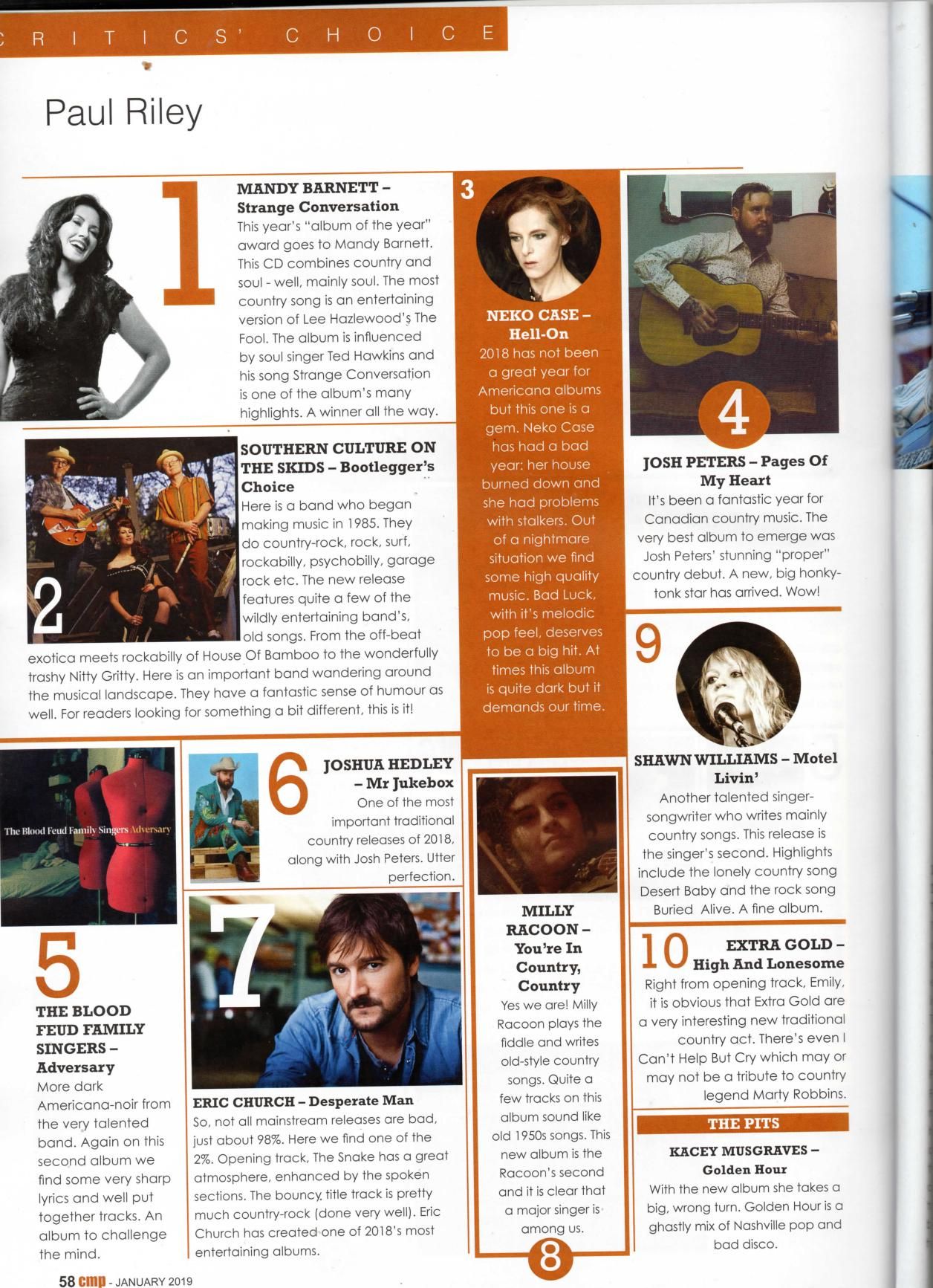 Whaaat!!!! Thank you so much to Europe's Country Music People's magazine's Paul Riley for listing my new album Motel Livin' as one of the top ten Best Albums of 2018!!...right alongside some killer artists, like Neko Case😍!
It's in the January issue which is now on newsstands or get it digitally at CMPcountry.com! Pistol Annies on the cover!
You can also get the October issue where Chris Smith interviewed me! Also, you can check out Paul Riley's 5-star review of the album in the August issue! Read them on my 'PRESS' page or CMPcountry.com!
Thank you very much for the support, Country Music People magazine!! And major thanks again to all the kick ass musicShawns on this album, as well as Tom Stern (engineering & mixing) at Blue Velvet Studio and to Bruce Bariellle (mastering)!!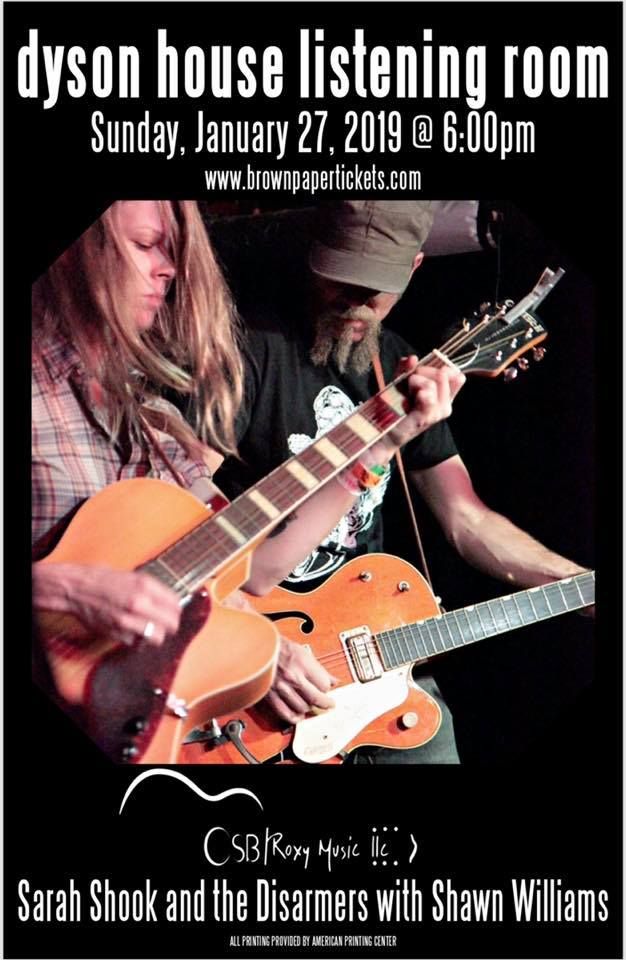 This is gonna be a killer show! I get to open up for Sarah Shook & The Disarmers in the Dyson House Listening Room in Baton Rouge! Sarah's new album is on many lists of 'Top Albums of 2018', including Rolling Stone, Chicago Tribune, and more! Get tickets before it sells out! https://www.brownpapertickets.com/event/3610298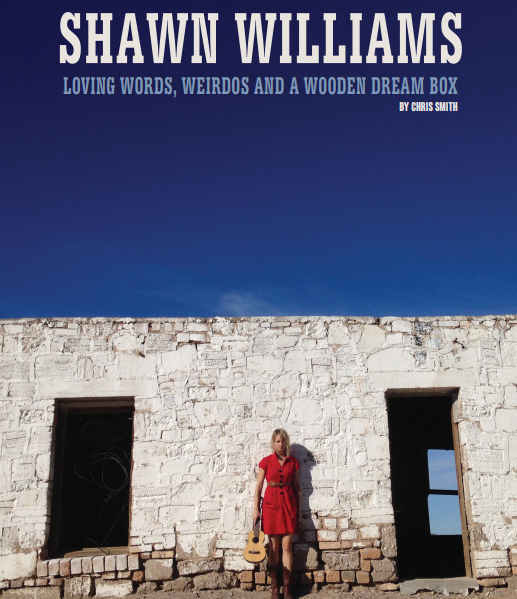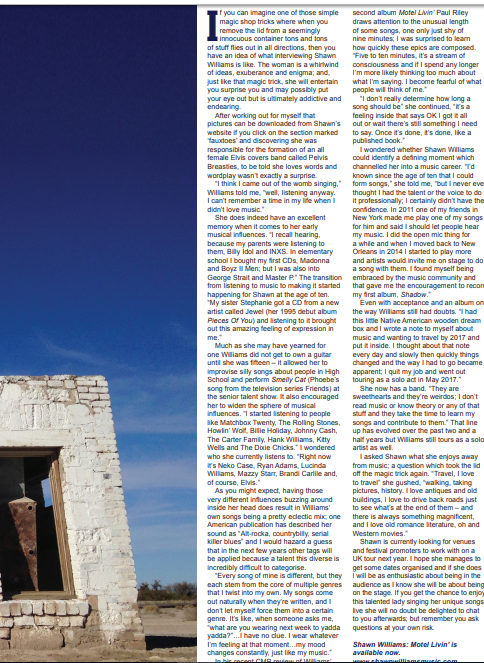 October issue of Europe's Country Music People magazine is now available digitally and hard copy! Many thanks again to them and Chris Smith for the lovely interview!!!!!

Get it at CMPcountry.com (one with Ashley Campbell on the cover)!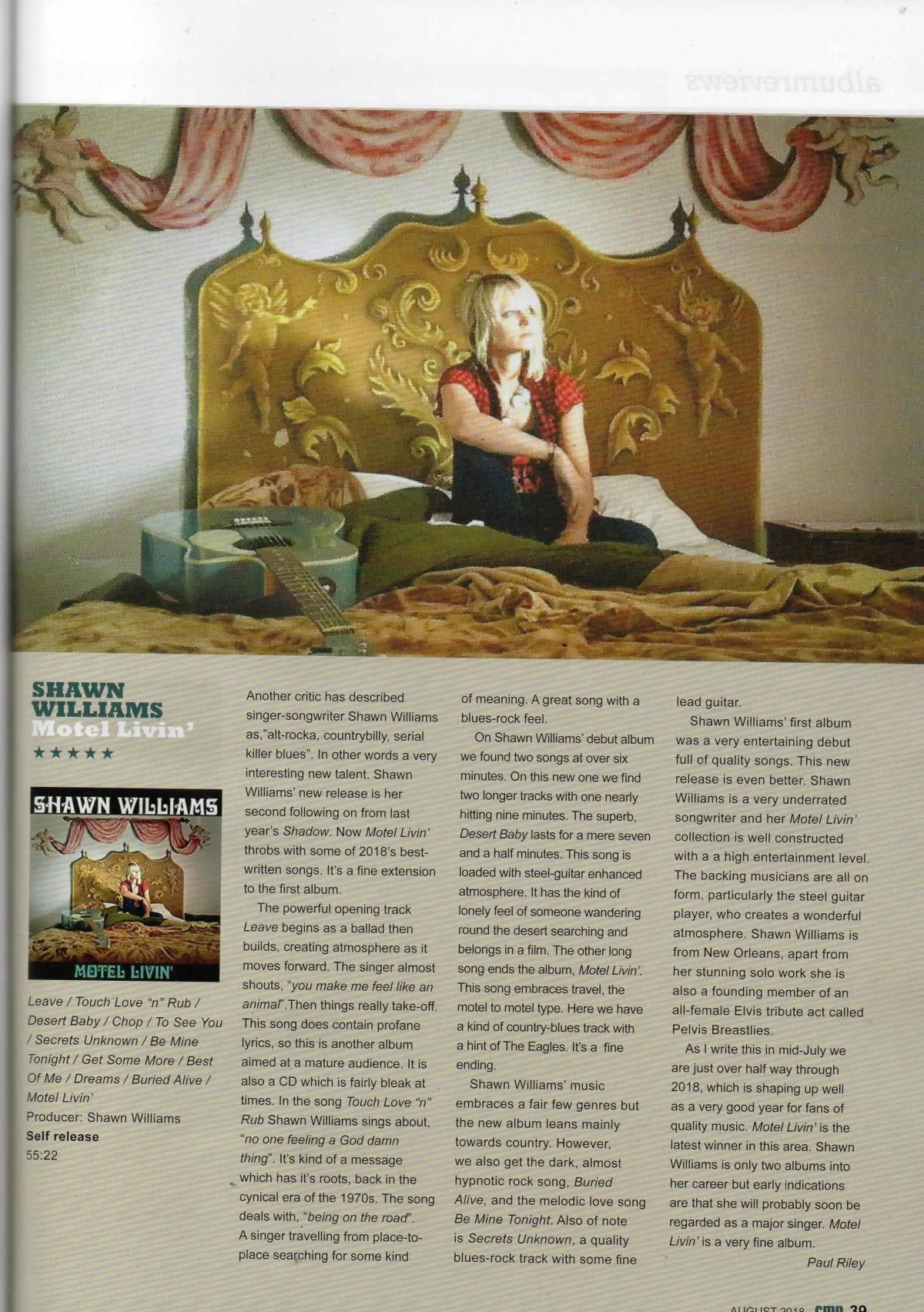 Big thanks to Europe's Country Music People Magazine and Paul Riley for reviewing my new album Motel Livin', for their August 2018 issue, and for these super touching words about my music! Read it in the graphic below and buy yourself a copy at CMPcountry.com!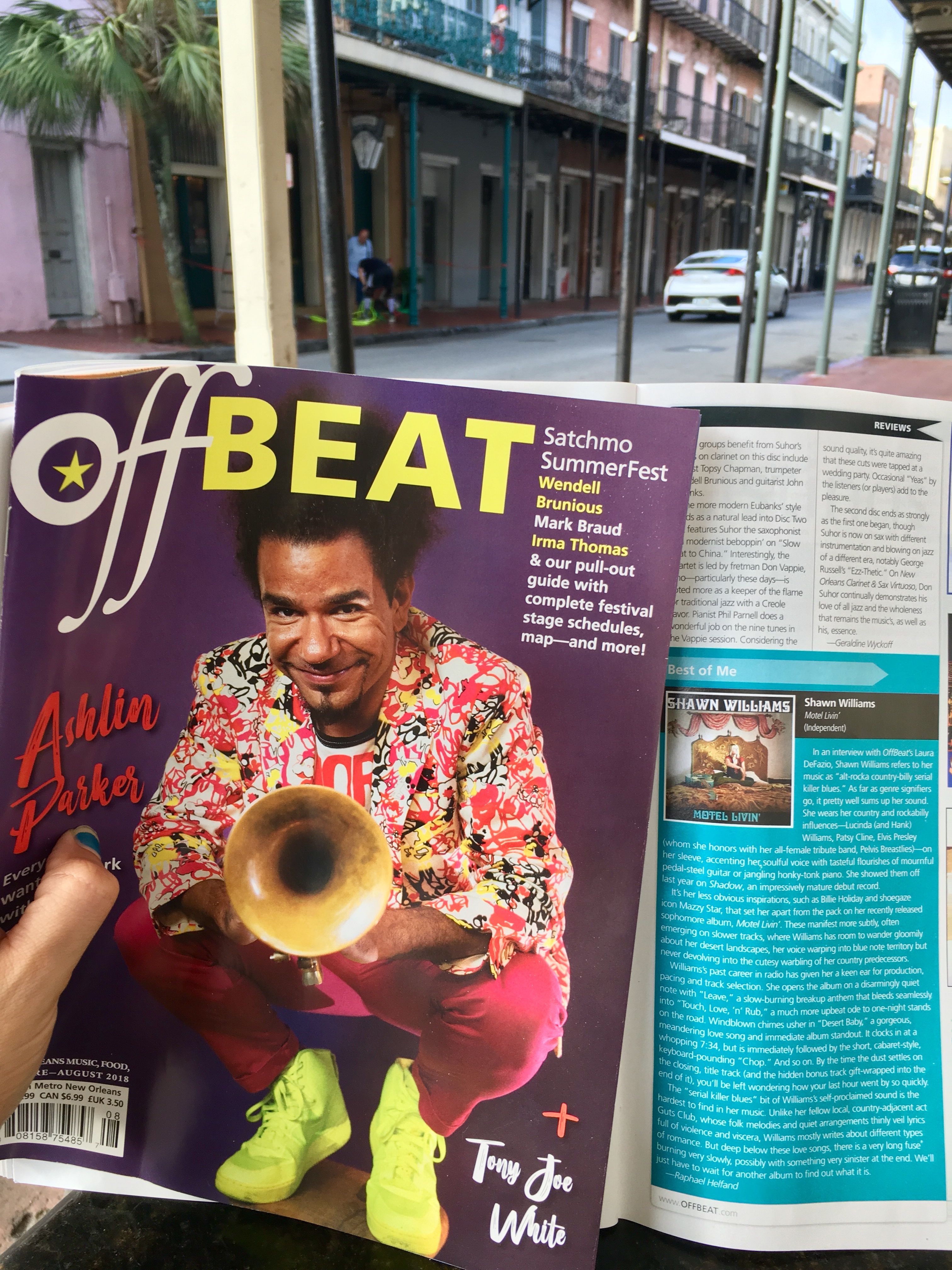 I appreciate all the love from New Orleans' Offbeat Magazine and Raphael Helfand for reviewing my second album (they also reviewed last year's release - Shadow - read HERE) Motel Livin', for their August 2018 issue! You can read it HERE, pick up the issue locally, or subscribe to the magazine to get your New Orleans fix!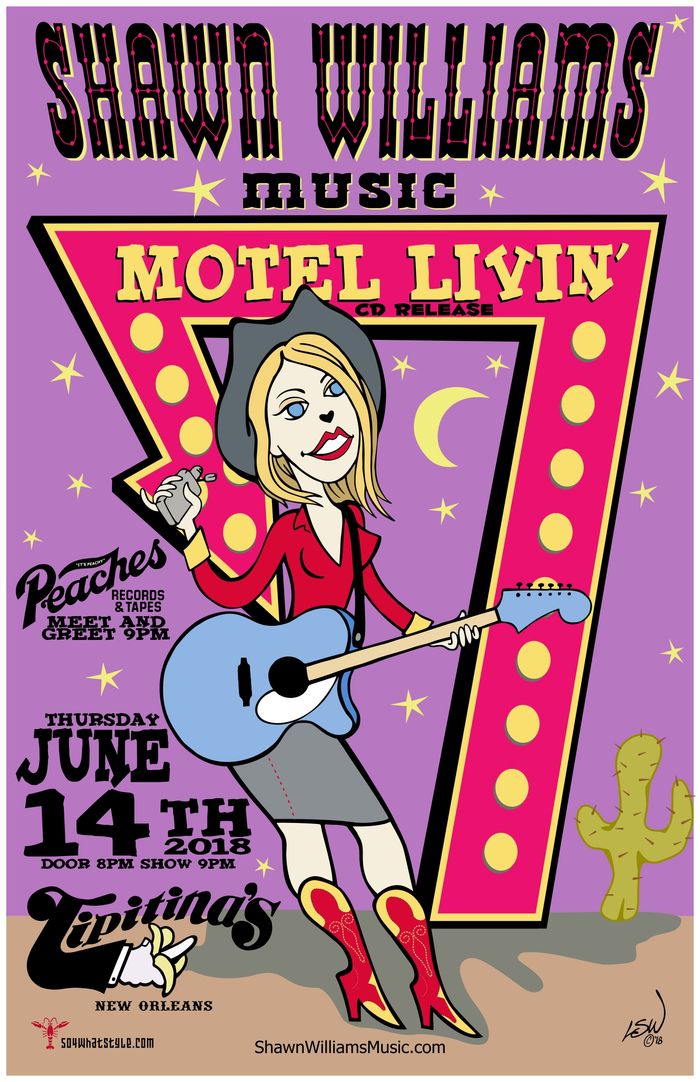 Thursday, June 14th, I'll be signing these awesome limited ediShawn posters at my in-store at Peaches Records, 4-5 p.m.! Plus, I'll be doing a few songs acoustically, and you'll be able to buy Motel Livin' before anyone else! Stumbling distance (4318 Magazine St.) to the release show at Tipitina's! Thanks to 504 What Style for designing these!

Excited to announce that I get to have my CD release show, for Motel Livin', at the legendary Tipitina's! The show will be on Thursday, the 14th of June, where you'll get to purchase the CD before anyone else! Friday, the 15th of June, will be the worldwide release! Ron Hotstream & The Mid City Drifters will kick off the night at 9 p.m., with doors opening at 8 p.m.! Tickets go on sale Friday, the 20th of April at 10 a.m.! Thanks to Tipitina's for their continuous support!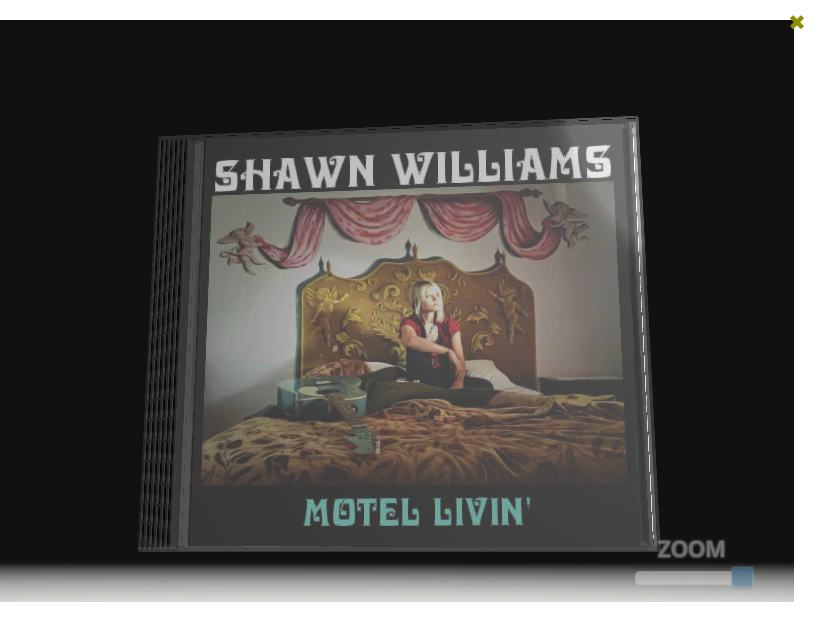 COMING JUNE 2018 - MY SOPHOMORE ALBUM, MOTEL LIVIN'! Excited to share with you the album cover, which I took myself with my iPhone on the 20th of November (my birthday), 2017, in a room in Amargosa Opera House and Hotel in Death Valley JunctShawn, California.  Marta Becket painted the bed frame mural that is behind me.  It was very important to me to have the album cover have something to with this place and locayShawn, as it is where I wrote a lot of the songs on the album.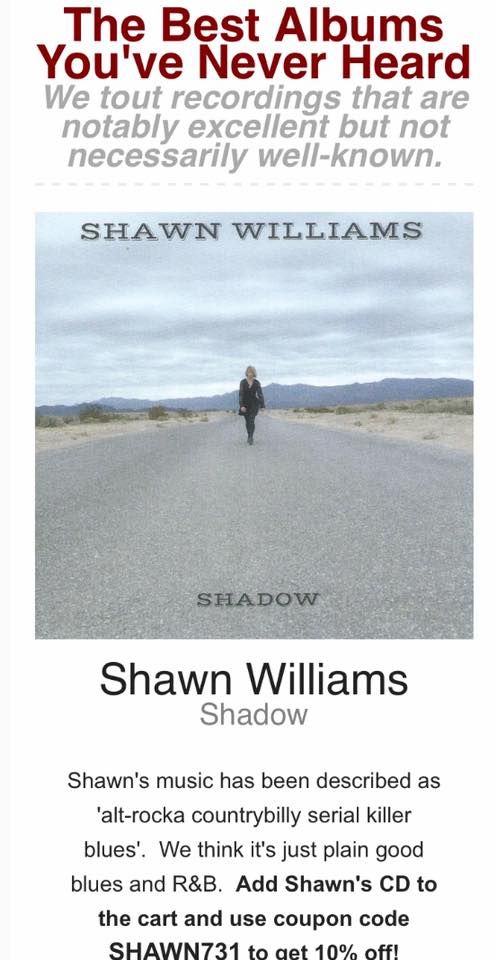 Hankyouvery much, Louisiana Music Factory, for the continuous support of "Shadow"! LouisianaMusicFactory.com or stop by the legendary record store on Frenchmen Street in New Orleans!


Just announced! Next week, Nov. 2nd, I'll be returning to one of my favorite venues, Tipitina's, to open for opening for national touring act Corey Smith!!!! Also, Jacob Powell! Get your tickets before it sells out!...  http://tipitinas.com/events/corey-smith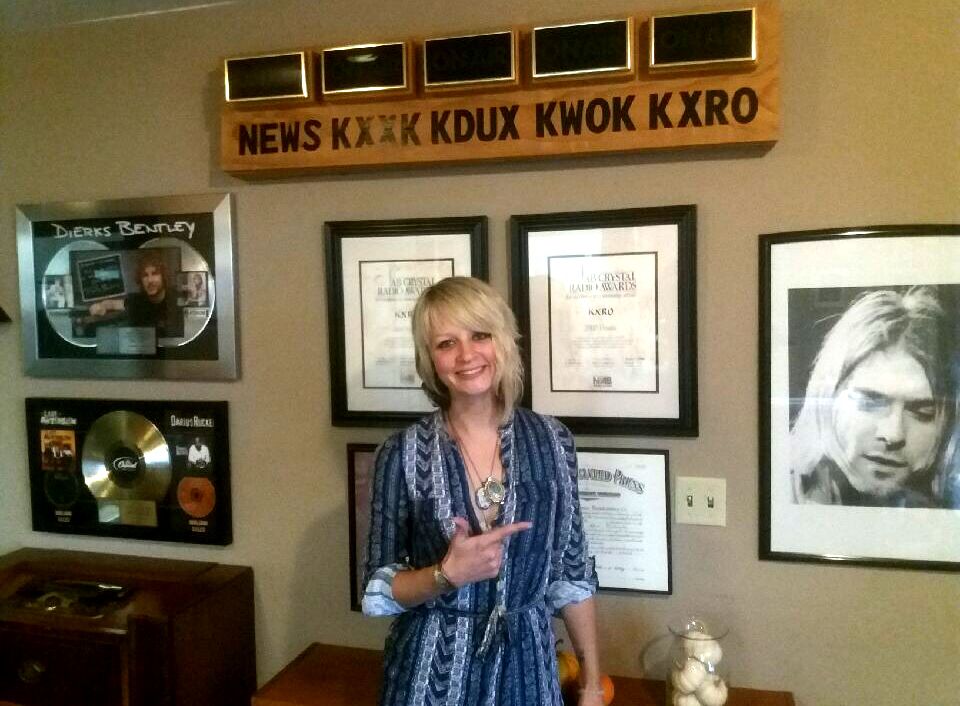 Big Hank you to The Kix 95.3 Morning Show, Luceman and Logan, for having me on! They were super funny and sweet! Click here for interview.  Click here for performance of  "What If I Stayed?"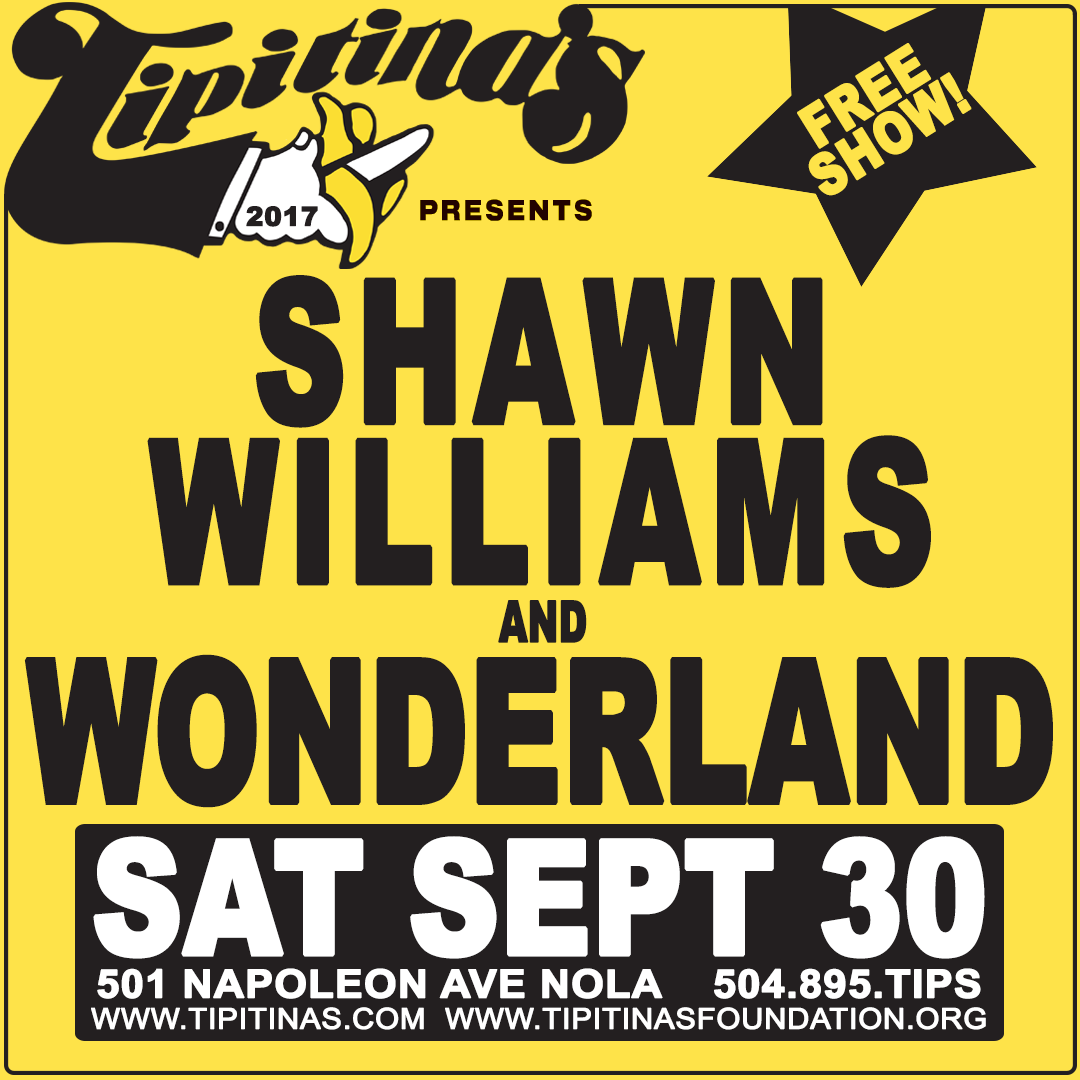 Returning to the legendary Tipitina's in New Orleans!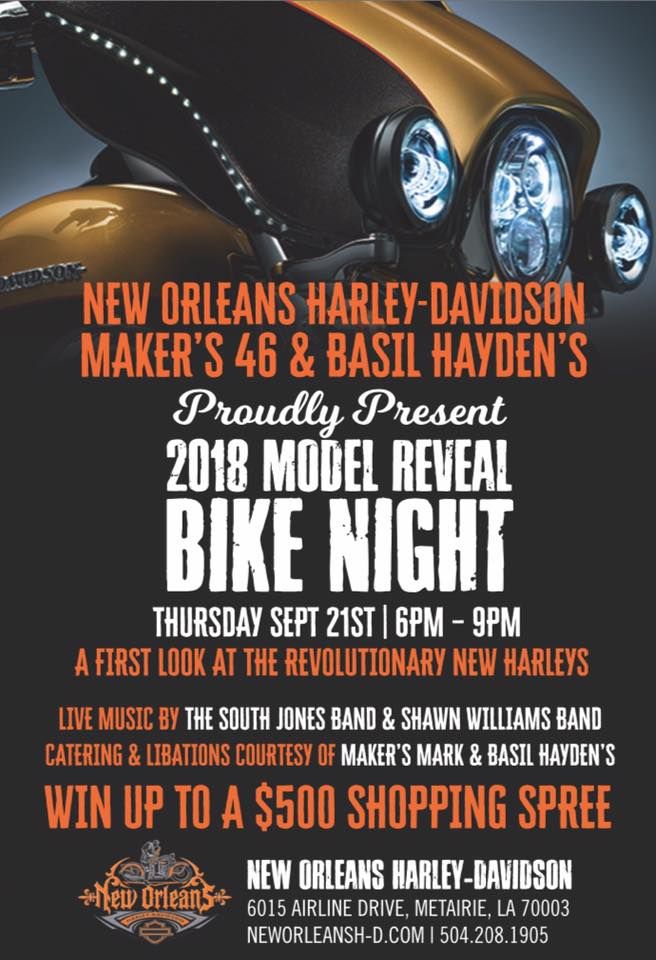 Honored to be a part of a big event for Harley-Davidson and New Orleans Harley-Davidson, September 21st, 6 p.m. - 9 p.m.! Not only is it NOHD's Bike Night, but it's Harley-Davidson's 115th anniversary celebrayShawn and the reveal of the 2018 bikes!! Free event! Plus, beverages from Maker's Mark and Basil Hayden's! HD will be giving away some awesome prizes! Rock with ya there!


Sooo excited about this! I get to open (solo) for the amazingly talented band The Accidentals (Billboard's Breakout Band at SXSW 2015, Huffington Post's Sweet 16 of 2016, Yahoo Music's Top 10 Bands to Watch 2017) on Sept. 18th in one of my favorite historic venues, The Orpheum Theater in New Orleans!! We'll be playing in their new room, the intimate and beautiful Ice Pit! Info: orpheumnola.com/calendar/the-accidentals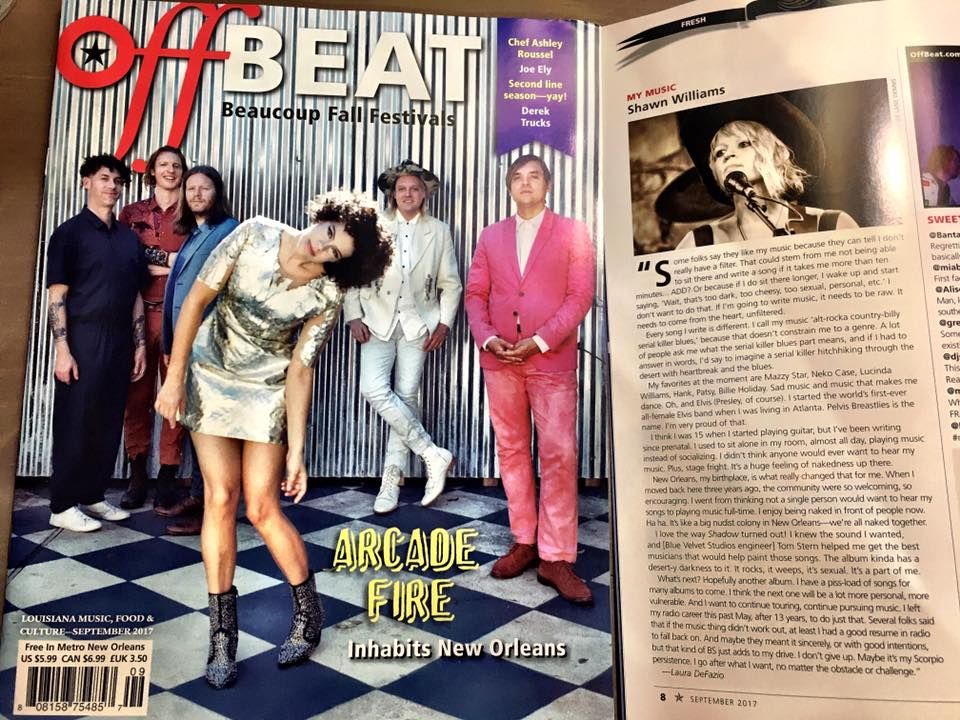 Big Hank you to OffBeat Magazine and Laura DeFazio for interviewing me for the new September issue, and for the continuous love! Plus, Arcade Fire, one of my favorite bands, is on the cover!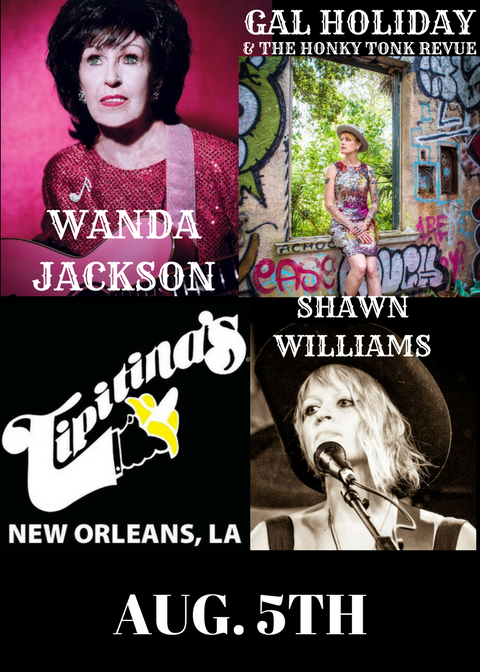 Super excited and honored to be opening for thee Queen of Rockabilly, the first lady of rock 'n' roll, Wanda Jackson!!!! See you at the legendary Tipitina's on the 5th of August, along with Gal Holiday & the Honky Tonk Revue! Get your tickets before it sells out! TICKETS
 —  —
Courtyard Pell City, 4300 Martin St. South, Pell City, AL
Song-swapping with thee amazing Cass Hunter!
solo! 8-10:30 p.m.! No cover.
 —  —
Rockwood Music Hall (Stage 1), 196 Allen St., New York, NY
Solo! No cover. Friday night/going into Saturday morning.
Follow Shawn...on Instagram
Signup for Letters/Emails from Shawn