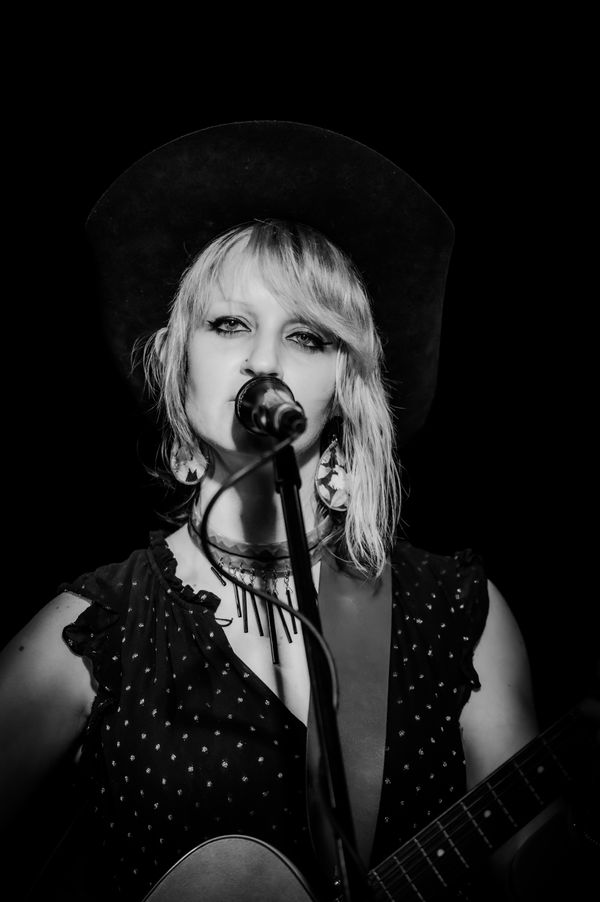 Photo Credit: Michael Furman
New Orleans' pioneering voice in "alt-rocka countrybilly serial killer blues," Shawn Williams sounds like the result of a dirtier-minded Elvis deciding to get it on in the back of some roadhouse saloon with one of those sad-eyed cowboy types that would rather be drinking alone.  On recording as in live performance, she conveys a sense of rawness, a depth of feeling, and a lack of pretension that set her apart from the rest of the city's pool of talented up-and-coming musicians.  
Williams' third album The Fear of Living.  The Fear of Loving. (Aug. 2020), where seven of the nine songs were written in a week, at the beginning of the Covid shutdown, was recorded and mixed by her on her phone, as she played all of the instruments.  Brett Milano with OffBeat Magazine said in a review of the third album, "it is a beautifully cathartic one, with some lovingly crafted songs and even some flashes of dark humor..."

Shawn's sophomore release Motel Livin' (June 2018) was named as one of the 'Top 50 Albums of 2018' by OffBeat Magazine, and named as one of the 'Top 10 Albums of 2018' in Europe's Country Music People magazine. Motel Livin'  "throbs with some of 2018's best-written songs," says Europe's Country Music People magazine.  

Her debut album Shadow (March 2017) is a skillfully-mastered collection of originals that moves seamlessly from old-school R&B-inflected rockers to softer, wistful numbers that evoke the broken-hearted melancholia of the desert. Idiosyncratic, catchy, and rich with local talent, the tracks showcase Williams' impressive musicianship and unique capabilities as a songwriter.  New Orleans' OffBeat Magazine says, "it's an impressively mature debut album".  

Shawn has opened for international touring artists such as the Queen of Rockabilly - Wanda Jackson, Sarah Shook & The Disarmers, Corey Smith, John Paul Keith, The Accidentals, The Way Down Wanderers, and more.

Williams will be releasing her 4th album Wallowin' in the Night on March 11, 2022. 
Aside from her own music, she is also the founder of the all-female Elvis tribute band, Pelvis Breastlies.

From 2004-2017, an accomplished career in radio had taken her from Atlanta to New York City and back to her hometown of New Orleans, where she marked success as the programming director for two of the city's largest radio stations (NASH FM 92.3 and 106.1 the underground), all the while managing to maintain gigging/writing/drinking schedule required of a young bandleader in a vibrant night town.
The Cannery
 —  —
The Cannery, 13066 Shriners Blvd, Biloxi, MS
The Pour House Saloon
 —  —
The Pour House Saloon, 3501 Jefferson Hwy, Jefferson, LA
8 p.m. - 12 a.m. with Elizabeth Grubbs on keys, Johnny drums, & Dustin lead guitar!
Brothers Three Lounge
 —  —
Brothers Three Lounge, 4520 Magazine St., New Orleans, LA
9 p.m. - 12 a.m. with Red DeVecca on bass & Dustin Cole on lead.
Follow Shawn...on Instagram
Signup for Letters/Emails from Shawn